hardbound

NOTEBOOKS

Elevate your note-taking with sleek, satin-finish Hardbound Notebooks, ideal for slipping into your bag for note-taking on-the-go!
– 5"x8" With College-Ruled Lines or Dot Grid Layouts
– Satin-Finish Hard Cover in Prints & Solids
– Coordinating Satin Placeholder Ribbon
– Finished Page Edges & Metallic Details
– Stunning Personalization Available FOR FREE
Your Go-To For On-The-Go Organization
Infinitely portable and beautifully durable, they're built to travel.
stunning hues
FOR YOU TO CHOOSE
what's inside the
HARDBOUND NOTEBOOKS
your personalized
HARDBOUND NOTEBOOK
Take these beauties to client meetings, doctor's appointments, parent-teacher conferences or wherever your life takes you.
COLOR CHOICES
Classic EC hues in gemtone solids make a stunning silhouette, while a dose of best-selling designs adds a pop of pattern. Collect them all and choose a hue for the season!
TWO LAYOUTS
Discover DOUBLE the organizational options! Whether you love list-making in college-ruled lines or the flexibility of a dot grid structure, say yes to style!
METALLIC DETAILS
Stunning metallic details take this up a notch! From the sparkling page edges to the asterisk accent on the front cover and the personalization options, take notes with a side of GLAM!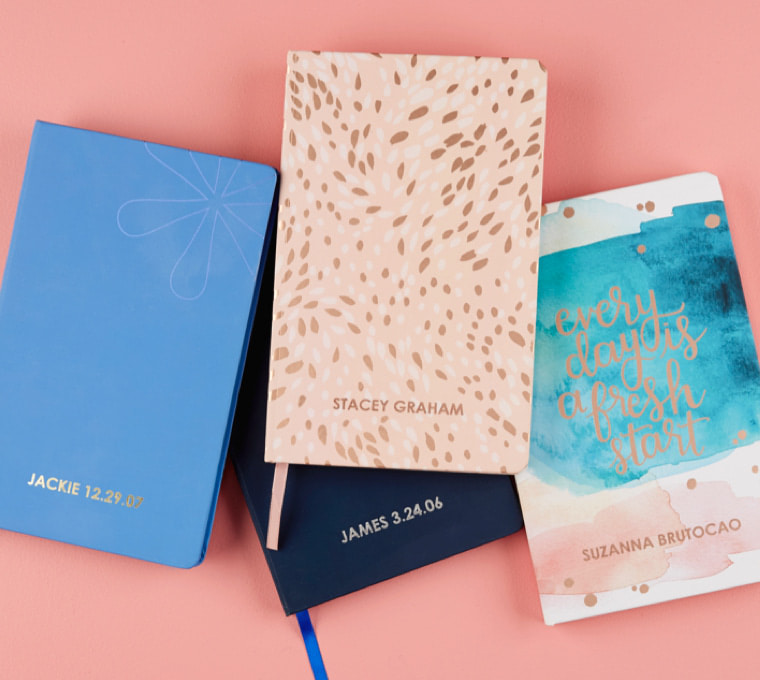 PERSONALIZABLE
Don't forget to personalize your book for FREE! Whether you go simple with your name or identify the book's purpose ("travel"), add a dose of customization to your note-taking.
RIBBON PLACEHOLDER
Never lose your place in these beauties! A coordinating satin placeholder ribbon is included with each Hardbound book so you can stop & start note-taking wherever, whenever!
INSPIRATIONAL QUOTES
Each Hardbound Notebook features stunning inspirational quotes sprinkled throughout to keep you on track & on trend wherever you go.
inspirational
SUCCESS STORIES
"It feels like butter! It combines the beauty of EC with a sleek profile!"
– Kim Barrales
@livingthewifelife
"You CAN judge this book by its cover! You can't ask for something much more."
– Terra Brown
Earn Spend Live
"It's absolutely beautiful! It's the perfect size for sliding into your bag!"
– Jen Mackintosh
Wildflowers and Marbles
upgrade your
PRODUCTIVITY