Softbound Planners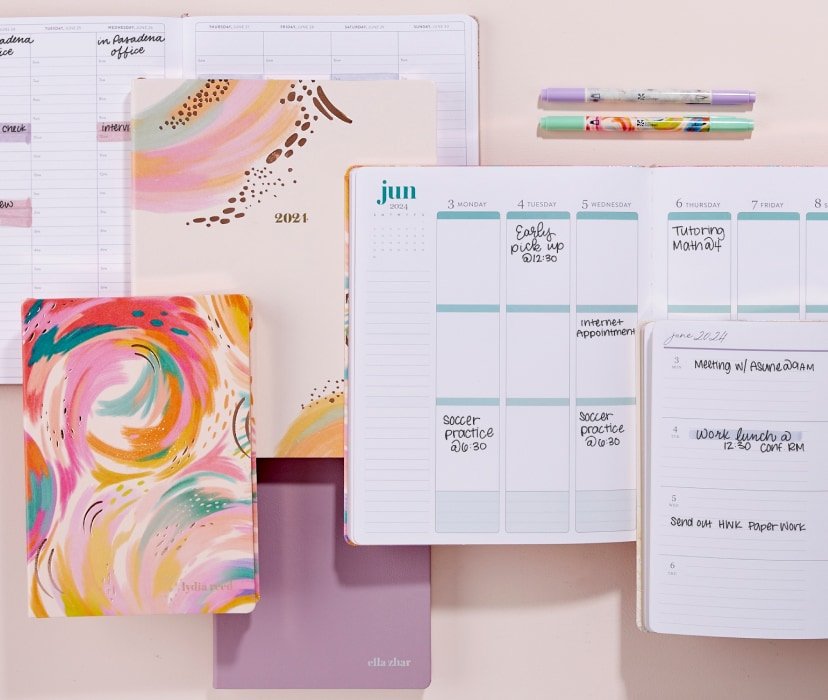 Enjoy portable planning at its best with our lay-flat, lefty-friendly Softbound Planner Collection.Featuring proven layouts and high-quality materials, these vegan leather planners are built to last.
•

NEW 2024 Softbound LifePlanners & Focused Planners

•

NEW Planner Designs

•

Weekly, Monthly & Yearly Planning, Note Pages & More

•

Made with Thick 80 Lb. Text Weight Paper (Resists Ink Bleeding)
DISCOVER YOUR PERFECT SOFTBOUND PLANNER:
•

4 Options: 8" x 10", A5 (5.8" x 8.3"), Focused or Pocket

•

3 Layout Options: Hourly, Vertical, or Horizontal

•

4 Interior Design Options: Colorful, Floral, Minimal & More!
LEARN MORE
Frequently Asked Questions
Erin Condren's softbound planners and calendars help you stay organized, reduce stress, and reach your goals, in style. New softbound planners launching soon, including Teacher Lesson Planner, Academic Planner, and LifePlanners (during calendar season). Available in a compact A5 size or 8" x 10" for more room to plan, these lay-flat, lefty-friendly organizers combine the best of a monthly calendar, weekly agenda, productivity tracker, and journal in one. With 12 months of big-picture monthly planning spreads, weekly view planning pages, productivity dashboards, and note pages throughout, our softbound planners feature portable planning at its best. They're also a great option for those who need undated planners for goal setting and accountability. You can even use them as appointment planners while on the go.

Each soft cover calendar planner is made with thick, high-quality 80 lb. paper that will stay intact in your purse or backpack and prevent ink from bleeding onto other pages. Select from several sturdy vegan leather cover designs that also coordinate with our softbound notebooks, journals, and stationery — mix and match while expressing your personal style! Pocket planner options also make fantastic gifts. Erin Condren softbound planners can be personalized with your name or initials embossed on the front cover. Customize your lay-flat planner even more with stickers, adhesive tabs, and markers and pens, and more to create charts, draw, write, and color-code activities, plans, and successes to make this planner your own.